L. Gale Lemerand, a serial entrepreneur from Daytona Beach, Fla., hired Axia Public Relations to promote his invention: a touch-free door-opening system for public restrooms. Sanidoor's goal was to educate consumers and businesses about the product and how it could reduce the spread of germs in public places like restaurants, hospitals, libraries and other high-traffic areas. Axia launched a PR campaign throughout
the United States, Canada and beyond through which it earned countless media mentions that brought
Sanidoor new customers, distributions and partners. Coverage of Sanidoor reached more than five million consumers and decision-makers, including earning mentions on nearly every ABC network affiliate.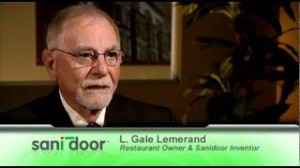 IDEAS
Sanidoor is a touch-free public restroom door opening system designed to reduce the spread of germs by eliminating contact with door surfaces when entering and exiting restrooms.
RELATIONSHIPS
Sanidoor hired Axia Public Relations as its public relations agency of record to spread the word about Sanidoor to consumers across the United States and Canada, and Axia did just that, leveraging its media relationships and other contacts to advance the brand and reputation of the Sanidoor new-product launch.
RESULTS
As a result of Axia Public Relations' work, nearly 200 ABC News television affiliate stations, Forbes, the Los Angeles Times, Chicago Tribune, Orlando Sentinel, The Baltimore Sun, Builders Exchange, Canadian Lodging News, Fitness Business Canada, QSR, Indianapolis Health Examiner, Industrial Hygiene News, Resort Trades' Management & Operations, Medical Construction & Design, Professional Door Dealer, Architectural Products, Hospitality Style, IDEA Fitness Journal, Health News Digest, Lodging Hospitality, Ontario Restaurant News, Medical Design Briefs, Medical Construction & Design, Metal Building Developer, WJXT, WKMG and NPR member station WJCT, as well as hundreds of other news outlets and blogs, have featured Sanidoor. So far, the coverage has reached more than five million consumers and decision-makers. Sanidoor's public relations campaign has delivered new customers, distributors and new partners.